HOME ABOUT MY HUNTER OUTDOOR BLOGGERS BLOG LOCAL GUEST POSTS RECIPES REVIEWS
Gagging Down Sushi
by JODY NARANTIC on SEPTEMBER 25, 2013
experienced my first Sushi restaurant Saturday night in Chicago. I've never had an interest in eating sushi mainly because I really don't care for white rice and anytime I've been to a place selling sushi, it smells like a big ball of rotten fish. But I thought … Well, maybe Chicago will have a much better selection of fresh fish than we might get here in Indiana. So I was a little excited about my fishy sushi meal. Everyone I know loves it. And everyone I know that loves it, I've always thought … they really have never had real fish. I've had friends say … oh hey, you should try the fried bluegill at so and so's place. And then I go to so and so's place and I'm sadly disappointed. After fishing bluegill and cooking it fresh at home … no restaurant will ever compare.
So here I am eating a fried potato at a Sushi restaurant in Chicago thinking … I'm about to gag down fishy egg eye ball sushi because I could already smell it before they even brought it to my table.
Gag …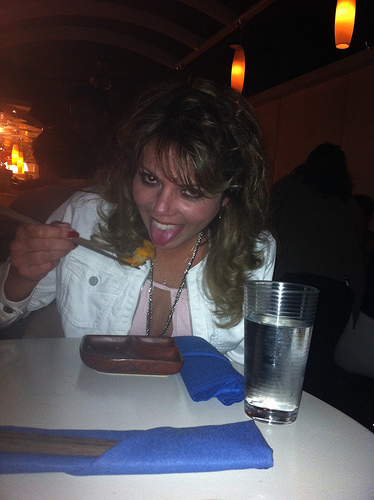 The Hunter's Wife
My blog about hunting, fishing and outdoor entertainment.

Follow me: